Special lettuce available in Early May ~ Brown Goldring ~ limited stock > to order Brown Goldring, click here.
We have switched April plants final dispatch on Wednesday.
Early May, we start the dispatch of plants from Early May next week (it runs from 24 April to 10 May) this includes globe artichoke, asparagus, beetroot, cardoons, celeriac, celery, chard, leek, salads, strawberries. To order Early May plants, click here.
Country Living Special offer, please find it here Country Living Special
Peat policy and other green issues

All our mail order plants are grown in peat-free compost or plugs. It has taken us a while to find a suitable peat-free alternative which meets the stringent requirements of professional module propagation.

Most of our plants such as brassicas and lettuces don't need any heat. A few of the plants for April and May delivery (e.g. cucumbers, tomatoes, courgettes) need a bit of heat during propagation, especially on cold nights. We have a biomass boiler which burns woodchips made from forestry trimmings and thinnings.

Plants are removed from our re-usable growing trays at the time of dispatch. Our loosefill packing material is 100% biodegradable and can be added to your compost heap along with the cardboard, or put in the appropriate recycling bins.

The Gardening Which? Magazine 'Better Plants by Post' campaign.
Gardening Which? has come up with 10 key criteria that they'd like all mail order companies to adopt. We aim to meet all these criteria 100% of the time. If you think we can improve our plant quality or customer service in any way please do not hesitate to contact us.
To find out more about 'Better Plants by Post' campaign.
Why use transplants

Most commercial organic growers use transplants. This method allows seed to be sown early, independent of weather or soil conditions. Our plants are grown under glass and an environmental computer controls heating and ventilation. Beneficial insects are introduced to control pests. The plants are strong and healthy, ready to compete effectively with weed seedlings.

Why buy them from us?

We grow all the plants ourselves. Delfland Nurseries Ltd is the leading commercial organic propagator - 2014 is our seventeenth season as Soil Association registered plant raisers and we are inspected every year. Your plants will be of the same high quality that we supply to large-scale growers. Plants are taken from the glasshouses and packed the same day in cool conditions.

What are the plants like?
All plants are grown in larger wedge-shaped cells or cylindrical plugs than most mail order vegetable plants. Plant height varies with variety but 7.5cm (3in) is typical (excluding roots). Grown in re-usable plastic trays, the plants are removed from the trays just before they are packed. Plants should be planted straight away.
All our plants are grown from organic or untreated seed. Some varieties have changed due to the availability of organic seed. The selection of plant varieties has also been influenced by our experience with:
commercial organic growers in the UK
independent trials by NIAB (National Institute of Agricultural Botany)
our nursery shop
our own kitchen garden
gardens and allotments of family and friends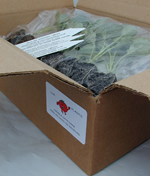 How we grow and pack our plants ....
All our mail order plants are grown in peat-free compost or plugs. Glasshouse plants are grown in cylindrical plugs with biodegradable paper wrappers. The rest are grown in wedge-shaped cells 4.5cm (1¾") deep, 3cm (1¼") square at the top, except leeks, onions and shallots which are 2.5cm (1") square. Plants are taken from the nursery to a cool room on the day of delivery where they are removed from our re-usable growing trays and put into plastic bags. The cardboard boxes and packing material can be recycled or added to your compost heap.

Full planting instructions are included.

We also offer a range of flowers for companion planting.

'Sowing the seed'
Seed is the starting point for any crop and we are in the hands of nature, if the seed crop fails (for example Tumbler was in short supply in the summer of 2007 and we had to substitute with Gartenperle another bush tomatoes), this happens from time to time and little we can do.
We have to use organic seed where it is available and failing that then untreated seed. We do not know for sure what the availability will be when we are putting together the catalogue. We will always substitute the closest available alternative and change the labels accordingly.